From exploring the foundations of Chemistry in your first year to participating in research-based courses in your fourth year, a degree in Chemistry at Queen's University will equip you with a strong foundation for continuing academic studies or a career in the field.
Get started thinking about the future now – where do you want to go after your degree? Having tentative goals (like careers or grad school) while working through your degree can help with short-term decisions about courses and experiences, but also help you keep motivated for success. Queen's provides you with a broad range of support services, with many offices dedicated to helping you learn, think and do.
Helpful Links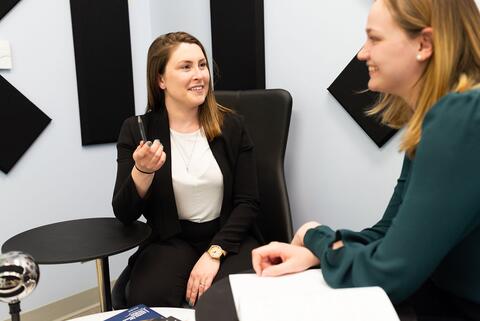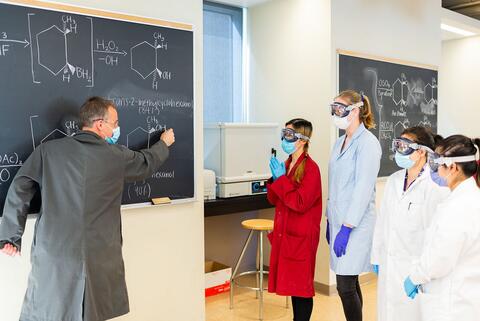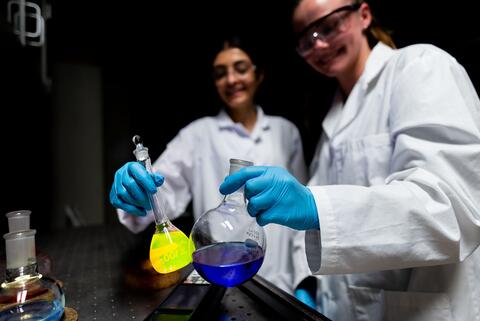 First Year Courses
In first year you will have the chance to explore the foundations of Chemistry in biology, chemistry, geography and geology along with some electives.
Second Year Courses
Start diving deeper into the discipline of Chemistry, while considering a minor and/or certificate program.
Third Year Courses
This is your chance to start grouping courses in areas of interest, or to keep it more general and explore many areas of Chemistry.
Fourth Year Courses
In fourth year you will have the chance to participate in research-based courses that can lead to Graduate School or to your future career path.
Arts and Science Online Courses in Chemistry
Arts and Science Online offers courses through an online learning platform called OnQ. It works much like a web forum where courses are chronologically organized to lay out assignments, readings, videos, discussion forums, quizzes, group work, and tutorials, all of which are available 24/7.
There are four online Chemistry courses offered by Arts and Science Online at Queen's University in the spring/summer terms:
These courses are primarily for students who are NOT in degree programs at Queen's University, as CHEM 113, 114, and 285 do not, at present, have a lab component. If, however, you have taken CHEM 112 or 282 previously, and failed the lecture component, but completed the wet lab component above the required threshold, you may use CHEM 113 + CHEM 114 to repeat CHEM 112 (with your lab exemption) and use CHEM 285 to repeat CHEM 282 (with your lab exemption). The online version of CHEM 281 is identical to the on-campus version of the course and may be taken as part of degree plans in Biology or Life Sciences at Queen's University. Students in Chemistry or Biochemistry degree plans should NOT take CHEM 281 or CHEM 282 (285).
For more information or to ask questions about the courses and their use in degree plans or certificates, contact either: