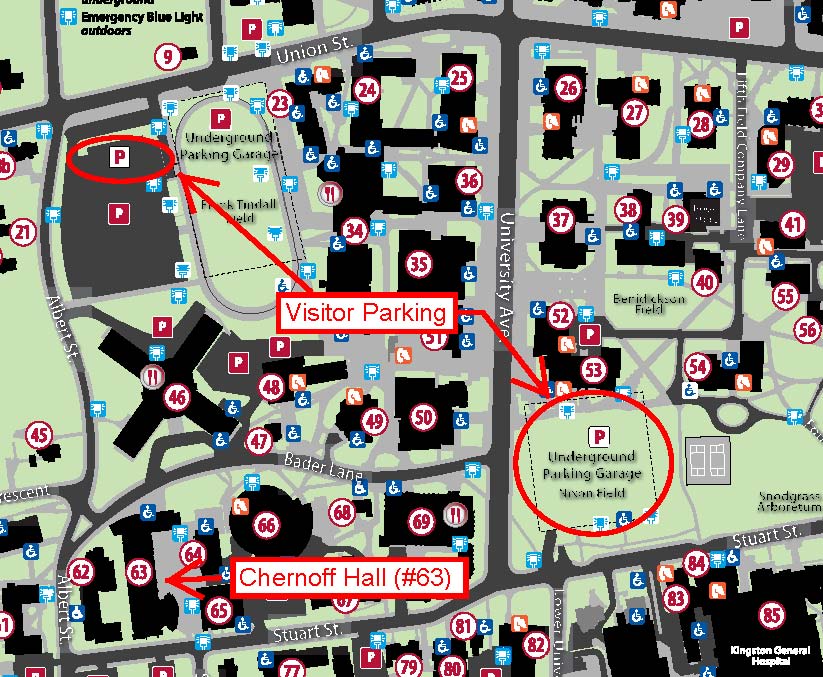 The Department of Chemistry can be found in Chernoff Hall (63) directly across from Victoria Hall, the X-shaped residence (46). There are two entrances to the building: the main entrance on Bader Lane and the back entrance on Stuart Street. Note that the main entrance is on the second floor while the back entrance is on the first floor.
Address Location
90 Bader Lane
Kingston, Ontario K7L 3N6
Canada
For other departments and locations please see the Queen's interactive campus map.
Getting to Chernoff Hall
Directions: Follow Highway 401 to Kingston and exit south on Sir John A. Macdonald Boulevard (exit 615). Follow this street south to Union Street, which is at the eighth set of traffic lights. Turn left onto Union and continue for approximately 10 blocks to the Queen's Campus.
Visitor Parking: Parking for visitors to the Main Campus is available in the underground Parking Garage (corner of University Avenue and Stuart Street), the Queen's Centre underground Parking Garage (entrance off Division Street) as well as pay and display parking areas (indicated by a P on the map below). The City of Kingston also offers on-street metered parking around campus.
The Kingston Transit Bus System has bus stops are located across campus (indicated on the map below). You can use Kingston Transit's Trip Planner tool to plan your bus trip door to door. Please note that there is no bus route from the Kingston Airport.
Amey's Greenwood Taxi Ltd
613-546-1111
Kingston & Amherst Taxi Co.
613-542-3333
Modern Taxi Cab Limited
613-546-2222