In an increasingly competitive world of science and technology, the correct choice of graduate school and research supervisor is one of the most important decisions you will make.
Queen's University and the Department of Chemistry enjoy international reputations and an advanced degree from here is highly regarded, which is an important consideration in today's job market. With 25 award-winning faculty, and over 130 graduate students, post-doctoral fellows and research associates performing cutting-edge research in a multitude of areas, you will find this an exciting place to do research.
Get Involved
Achieve your academic goals, maximize your research impact, build skills and experience, engage with your community, and launch your career with Graduate Programs in Chemistry at Queen's.
The Department of Chemistry hosts a two-day Chemistry Grad Open House in February. Domestic applicants who complete their application by the application deadline will receive an invitation to attend.
The Open House will include department and campus tours, ample time to meet with prospective graduate supervisors, and multiple social events to mingle with current students, profs and new friends. The department will cover the cost of accommodations and assist with covering reasonable travels costs of all invited participants.
Application Deadline: February 1
Check out what graduate students at Queen's are researching by tuning in on Tuesdays at 5 PM to Grad Chat on CFRC 101.3FM.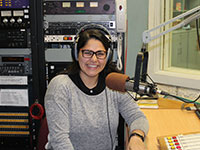 Nausheen Sadiq - PhD Candidate in Chemistry, supervised by Dr. Diane Beauchemin
Research Topic: "Multi-elemental risk assessment of various types of rice using ICP-MS"
Overview: Various types of rice have been studied by exposing the samples to artificial saliva, gastric juice and intestinal juice to determine how much of both toxic and essential elements will leach into our bodies and from there into our blood. This is done to determine how safe the food we eat is and whether the government needs to implement safety regulations.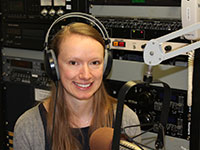 Gillian Mackey - PhD Candidate in Chemistry, supervised by Dr. Stephen Brown
Research Topic: "Developing modified siloxane polymer materials for environmental sensor applications"
Overview: With increasing human populations and demands on resources, it is more important than ever to monitor our environment for pollution. Currently, most environmental monitoring is done in the lab, meaning a sample must be collected from a site, transported to a lab, and analyzed by a trained technician. It would be ideal to develop devices that can instead carry out environmental analysis in the field – these devices are called environmental sensors. In my project, we aim to modify siloxane polymers in order to produce materials with useful properties for environmental sensing. We can incorporate different chemical components, which change the light transmitting properties of the material, and attach proteins and antibodies to the surfaces of the polymers. We have applied these materials to the detection of bacteria in water and volatile hydrocarbons in air.
CREATE-Materials for Advanced Photonics and Sensing (MAPS) is a new NSERC-funded program that provides graduate students with comprehensive training in photonics problem solving using the best tools and approaches from physics, chemistry and engineering.
We do this by providing: international and industrial internships, an innovative approach to supervision including external mentors, a new method of planning, tracking and summarizing skill development tailorable to each student's unique professional goals, and learning modules that focus on problem solving, leadership, ethics and professional development.
Queen's Graduate Chemistry Society
The Queen's Graduate Chemistry Society (QGCS) is intended to promote and organize social, recreational and educational activities for its members, help foster a relationship between the graduate students and the faculty of the Department, improve the quality of student life and education for the graduate students of the Department and to promote recruitment of new students to the Department.
Visit the QGCS website
Frequently Asked Questions
If you are looking for more information about application deadlines, where to send transcripts, or other admission details, check our FAQ page. This is a helpful resource for ensuring that you are confident in submitting your application to our graduate programs.
Read our FAQ