Thank you for Considering Queen's for Graduate Studies in Chemistry
Our Faculty and Research
25 Research Faculty (22 full time and 3 emeritus).
Our faculty are recognized nationally and internationally through numerous awards including 4 Canada Research Chairs, 7 Chemical Institute of Canada Awardees, 5 Fellows of the Chemical Institute of Canada, 3 Discovery Accelerator Awardees, 1 Killam Research Fellow, etc.
Research is performed in the areas of analytical, inorganic, organic, physical, polymer, and theoretical chemistry. Research in these areas ranges from the most fundamental to very applied. Many groups are also engaged in interdisciplinary research efforts.
Many faculty interact with industry, and commercialize products, providing students opportunities to network with industry representatives and get involved in patenting processes.
Graduate Student Research Highlight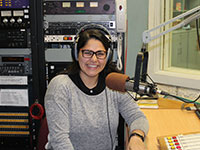 Nausheen Sadiq - PhD Candidate in Chemistry, supervised by Dr. Diane Beauchemin
Research Topic: "Multi-elemental risk assessment of various types of rice using ICP-MS"
Overview: Various types of rice have been studied by exposing the samples to artificial saliva, gastric juice and intestinal juice to determine how much of both toxic and essential elements will leach into our bodies and from there into our blood. This is done to determine how safe the food we eat is and whether the government needs to implement safety regulations.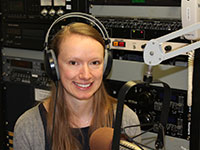 Gillian Mackey - PhD Candidate in Chemistry, supervised by Dr. Stephen Brown
Research Topic: "Developing modified siloxane polymer materials for environmental sensor applications"
Overview: With increasing human populations and demands on resources, it is more important than ever to monitor our environment for pollution. Currently, most environmental monitoring is done in the lab, meaning a sample must be collected from a site, transported to a lab, and analyzed by a trained technician. It would be ideal to develop devices that can instead carry out environmental analysis in the field – these devices are called environmental sensors. In my project, we aim to modify siloxane polymers in order to produce materials with useful properties for environmental sensing. We can incorporate different chemical components, which change the light transmitting properties of the material, and attach proteins and antibodies to the surfaces of the polymers. We have applied these materials to the detection of bacteria in water and volatile hydrocarbons in air.
Check out what other graduate students at Queen's are researching by tuning in on Tuesdays at 4 PM to Grad Chat on CFRC 101.3FM.
Our Facilities
The Department of Chemistry is housed in Chernoff Hall, a new state-of-the-art $56 million building.
Research facilities include NMR, mass spectrometry, and materials characterization facilities, an X-ray diffractometer, a laser lab, fluorescence and circular dichroism spectrometers, an in-house computing and electronics shop, and access to high-performance computing resources.
Student Life
The Department of Chemistry offers a competitive minimum stipend of $23,000 per year, with the opportunity to increase this amount through numerous institutional, provincial and national scholarships and awards.
Queen's University is located in beautiful Kingston, rated as one of Canada's best places to live. Kingston offers a vibrant downtown, numerous winter and summer activities, and easy access to major centers.
The Queen's Graduate Chemistry Society also organizes events within the department to foster interactions between graduate students.